Discovering your city through music
PROJECT: Muse is a mobile-first subscription service that curates live music experiences that go beyond the venue. Through monthly concert selections in various areas of town and a personalized insider's guide, Pittsburghers have the opportunity to rediscover their city's unique culture through music.
CHALLENGE: Build a music service; 8 weeks
TEAM: Carlie Guilfoile, Laura Rodriguez-Eng, Kevin Gao
TOOLS: Illustrator, Sketch, After Effects
SERVICE DESIGN | QUALITATIVE RESEARCH | MOBILE UX DESIGN
Exploration:
How might we create music service that inspires locals to reconnect with Pittsburgh's culture and rich history?
Locals fall into a routine.
City natives seek out new experiences less often than visitors or city newbies because they fall into a neighborhood routine.
Planning is time consuming.
In cities like Pittsburgh, planning new experiences is time consuming because there is no central hub to search for upcoming events or new restaurants.
A guide can help navigation.
There are a huge variety of cultural events across the city and saw an opportunity to provide a more guided and personalized experience.
Concept Ideation
Early on, my group and I discussed ways in which music has shaped our experience in cities. We began brainstorming music service ideas that help people discover, explore, and deepen their relationship with a city. These objectives served as a basis for our concept ideation. Through generative exercises, and conversations with locals, we generated dozens of ideas ranging from intimate house concerts and auditory music scavenger hunts, to virtual reality music history tours.
Speed Dating Concepts
We developed concepts that targeted two key user groups: locals and tourists. Each of our concepts focused on urban discovery and leveraged partnerships with local businesses and non-profits. Through a speed dating session, we got feedback that helped shape our final concept.
ROSE People liked the idea of being guided to different areas of the city and supporting local business. This reminded people of neighborhood bar crawls and walking tours.
THORN They also felt that our concepts did not have a balanced value exchange between the service and businesses. We were asking the businesses to do more than the value we provided .
BUD People wondered how it would work with cities that are not very walkable. This made us talk more about user access and how we might consider a more inclusive design.
Opportunity Framing
We narrowed in on the feedback from our classmates and then talked to locals about their typical nights out – from planning to completion. It was revealed that there was no central hub for viewing upcoming concerts and performances, which made planning time consuming. People also said that after a year in the city, they fell into a routine. We identified an opportunity to engage locals between 30 - 60 years old in their city's neighborhoods, cuisine, and unique cultural sites through music.
Exploratory Research
How do you make people feel like they are part of an 'music experience club'? One that makes planning special nights out easy and exciting?
MARKET RESEARCH
KEY FINDINGS: There were no affordable and curated ticket services for young professionals. The Opera was the only ticket service that offered a sense of community by hosting specials events and meet-ups outside of regular Opera outings.
2 SURVEYS
KEY FINDINGS: Subscription boxes are expensive and many people get items they don't like. People wanted more control over customization.
KEY FINDINGS: People trust recommendations coming from people they know or organizations that have been recommended by people they know. Trusting the curator goes a long way in bringing in more repeat customers. The down-side to this is personal curation is time consuming and not easily scalable.
Value Flows & Wireframes
Our updated scenario invited the user to create their own online profile, where they are matched with a a music expert who helps to curate their monthly music experiences. Once they join the service, they are met with a small welcome package that includes member swag, such as a pin that shows you are a part of 'the club'. This would allow them to meet other people at the events and grow their music community. We also explored the question: how do we both curate and offer choice?
Visual Style
For our visual style, we chose a color palette with colors focused on dark and light purples. These colors create a sense of trust and luxury within our customers, since our target audience are 30–60 year olds who enjoy spending more money for a higher quality service. The word "MUSE" means someone who creates creative experiences for others, which is exactly what our service does. The branding of MUSE is shown thrown banner ads in museums and mockup wristbands that might exist in our Welcome Package.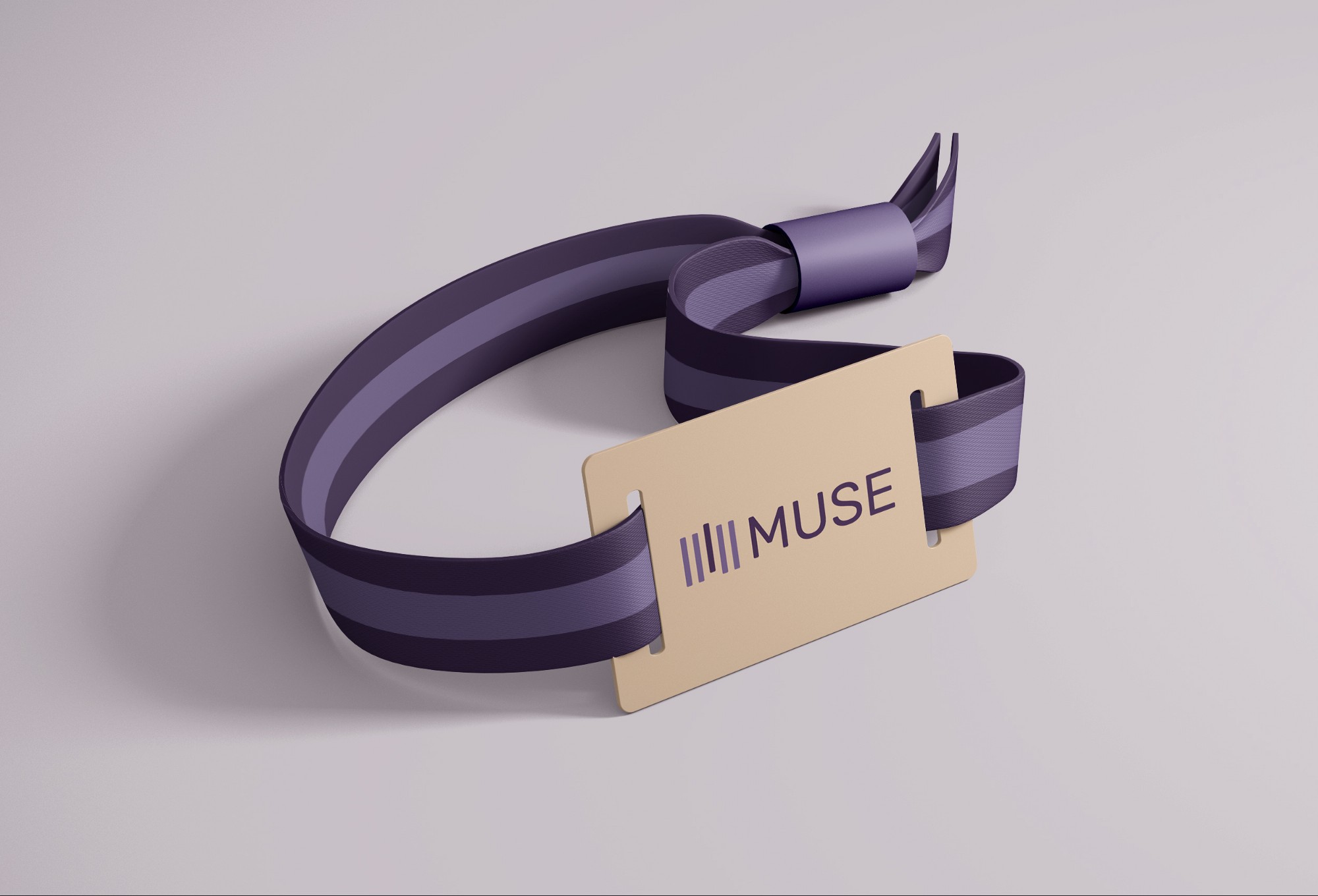 Refining Touchpoints
The mobile app is primary touchpoint for the Muse members. It is designed to delight, surprise, and educate the user. The primary features allow users to: choose their monthly concert, view the insider's guide, and rate their experience.
CURATED MUSIC CHOICES
Based on the music genres selected, the user receives two music events to choose from: one that is "up the user's ally" and one that is a "discovery". By providing the user with two choices, it provides the user the sense of control they desire while reducing the time-consuming searching, which was a main frustration.
PERSONALIZED EXPERIENCES
Based on the city topics selected during the profile creation, the insiders guide is personalized to feature information around those topics, in addition to information about the music artist. For example, if the user is interested in food and architecture, their insiders guide would feature restaurants and bars, as well as history about the venue.
USING DATA TO REFINE
After each event, the user is asked to rate their experience to further refine the algorithm. They are able to download the music they heard through a partnership with a third-party music streaming service, such as Spotify. This download information is collected to further learn about the user's music preferences refining the algorithm and user's Muse experience.
Welcome Box
When a user signs-up for Muse, they receive a one-time welcome box that includes a guide to the service and Muse swag. Users are encouraged to wear a bracelet or sticker to the events so they can identify and connect with other Muse members.
Reflections
WHAT WAS HELPFUL
Our interview with Meena, the founder of Reveler, was particularly valuable. We sought her out because her 'surprise ticket service', like ours, aims at making it easier to plan and discover new experiences in your own city. Meena was very passionate and frank about what was working and what was challenging. She shared that people loved knowing that their tickets are hand-picked by Meena because they respect her taste, but that also makes it very challenging to work efficiently and scale. This insight shaped our 'Music Expert' approach, where we decided to pair our expert with an AI algorithm to help curate music events that our users would love.
WHAT HAD THE MOST POTENTIAL
Partnerships! We presented our project to Visit Pittsburgh and they saw an opportunity to partner and use our service as a tool to help revitalize the live music scene in Pittsburgh. Other community organizations, small businesses, and bars would also gain value from partnering with Muse because our Insiders Guide includes recommendations for bites to eat, drinks, and historic areas of town to check out.
THE MAIN TAKEAWAYS
There is an untapped opportunity for a music & culture one-stop-shop. Our research revealed that busy professionals would rather spend money than waste time on tasks they don't feel are a priority. In addition, we observed that Pittsburgh would be a perfect launching ground for a service like Muse because it's culture is changing so rapidly.
GIVEN MORE TIME
There wasn't much time to test! We'd like to develop a more robust version of the service with users, and present it to local partners.